La Cenerentola!

If one were to write the true life story of Jill Corey as a movie scenario, it would be too fantastic to be believed. Certainly nothing more dramatic could be dreamed up than the simple truth about this coal miner's daughter who lost her mother at age four. At eighteen, she found herself on the cover of LIFE magazine and destined to be a full-fledged recording star, as well as a radio and television personality, all as the result of one miraculous day in New York City.

For Norma Jean Speranza, the youngest of five children, life began routinely enough, in Avonmore, Pennsylvania (population 1300), a coal mining community forty miles east of Pittsburgh. Her first performances were not memorable, consisting of Carmen Miranda imitations rendered with gusto at family gatherings and in grade school amateur hours, where she recalls invariably coming in last place. That may be the only time in her life she would fail to finish near the top of any endeavor she would undertake.

At the age of thirteen she abandoned Carmen Miranda in favor of her own unique style. It quickly paid off at the local level, when she won first prize at a Lion's Club talent contest, the prize consisting of the opportunity to sing one song over the local radio station. The public response prompted the station to give Norma Jean her own show. By the age of fourteen she was appearing locally with the Johnny Murphy Orchestra, a seven-night-a-week grind which paid five dollars a night! This did not, however, prevent her from graduating ninth in a high school class of sixty.

By the age of seventeen, Norma Jean was a local celebrity. At the urging of an admirer she made a tape recording to be sent to the powers-that-be of show business. It was not a tape calculated to shake up any imaginable show business nabob, for she sang unaccompanied, except for the noise of trains passing by, in the house of a man with the only tape recorder in town. That tape, however, made a fantastic journey and ultimately found its way to the desk of Mitch Miller at Columbia Records. It was one of more than a hundred a week received by Miller from all over the world. The statistical chance of his even listening to it must have been as unlikely as its contents - a seventeen-year-old girl singer accompanied by trains!
.


,,,,,,,,,,UPDATE: We have often wondered about the contents of that tape that was to serve such a pivotal role in the young singer's early life and her subsequent Cinderella-like rise to stardom on records and television. Jill could only remember what she chose to sing into the microphone on that fateful day in Avonmore was a popular song of the day, one she had heard on the radio sung by Tony Bennett often enough to be able to commit it to memory. Jill could even sing a few bars of the song to this writer some fifty years later. When we mentioned this "mystery song" to good friend and popular music authority Ronnie Allen, we had the answer to the puzzle in less than a minute:

Since My Love Has Gone (Herbert Wasserman–Jack Aaron)
Adapted from Verdi's La Traviata: 'Addio del passato'
Tony Bennett, Columbia 39635, mx CO 45834-1, recorded 31 May 1951, New York

Ronnie even came up with the original recording by Tony Bennett with a quick search on YouTube. You can listen for yourself here.


.
What followed adds up to the sort of show business miracle of which only legends are made. Miller listened; Miller flipped; Miller placed a telephone call to Avonmore. The next day Norma Jean was on the 8:00 a.m. flight out of Pittsburgh, headed for an incredible day in New York City.

Her first stop was at Columbia Records, where Mitch Miller had the opportunity of listening to her without trains and signed her on the spot! He then contacted LIFE magazine, which sent over reporters and photographers on that very day. Meanwhile, Miller set up auditions with Dave Garroway and Arthur Godfrey, both of whom responded to his enthusiasm by seeing her immediately. Later in the day the signing of contracts with Columbia was re-enacted for the LIFE photographers. That evening Norma Jean flew back to Pittsburgh and then continued home to Avonmore. Quite an eventful day for this small town girl not yet eighteen years old!

The following day brought telephone calls from Garroway and Godfrey, both of whom wished to sign her. She chose Garroway and appeared with him for nine months. It was Garroway, incidentally, who picked the name Jill Corey out of a telephone book, and from that moment Norma Jean Speranza was discarded as a professional name. (For a look at Jill's very first review barely two weeks after her debut on national television just click here.)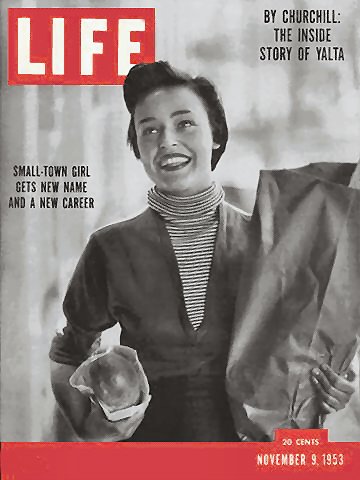 " . . . with a voice as lovely as a glass slipper and a personality to match."

Silver Screen magazine, April 1958


The Cinderella life of Norma Jean Speranza, now known as Jill Corey, was just beginning. Within six weeks the LIFE cover and seven-page spread had hit the stands. Suddenly Jill Corey seemed to be everywhere at once - always being associated with the best talent in the business. After Garroway, there was the Robert Q. Lewis Show, Ed Sullivan appearances and nine months (for as long as the show lasted) as a regular on Johnny Carson's California-based show. Jill became one of the youngest performers ever to star at the Copacabana, and the nation soon began buying her records by the carload. Then there was Las Vegas and her own syndicated radio and television shows. She was the last of a long and distinguished line of singers to headline on Your Hit Parade, and her movie Senior Prom played theaters. Jill broke every previous record for longevity at the Blue Angel by doing twenty-one weeks of standing-room-only business, then followed this with appearances at every important nightclub in the nation. Ed Murrow even interviewed her on Person to Person.

Under Mitch Miller's fatherly aegis Jill broadened her scope, studying at the American Academy of Dramatic Arts and taking classes in dance. Jill began making appearances both as a singer and as an actress on every important television show, and she delighted audiences all over the country with her deft performances as star of such a diverse battery as Wish You Were Here, High Button Shoes, Gigi, The Warm Peninsula, Sabrina, The Moon Is Blue, Sunday in New York, The Reluctant Debutante and Meet Me in St. Louis, in which she had top billing over Robert Goulet.

Jill was romantically linked with every desirable male imaginable, from Frank Sinatra to Johnny Carson to Brazilian diplomats to you-name-him. Finally, it was fiery Don Hoak, all-star third baseman of the World Champion 1960 Pittsburgh Pirates to whom Jill gave her heart.

When they married, Jill gave up her career, which had seen her achieve every conceivable goal that a performer might dream of, including being the the commercial voice for such staple American products as Schlitz and Ballantine beers and Ford cars. It was not inappropriate somehow for her Great American Dream come true to have culminated in marriage to one of the greatest stars of the era in the Great American Game.

Barely out of her teens, Jill settled down to make as great a success of marriage and of motherhood as she had made of her career in show business. She succeeded, and the family soon included Clare, an extraordinarily beautiful little girl. Suddenly, without warning her husband Don Hoak died of a heart attack. After eight years of idyllic happiness Jill found herself with a child to raise but with few resources beyond her own abundant gifts and talents.

With gallantry Jill picked herself up and moved her small family back to the New York area. There she did much theater, both off-Broadway and on tour.

Her Harold Arlen Salute became a mega-hit (at Danny's) and led to a run at the Algonquin Hotel, the Weill Recital Hall at Carnegie Hall, a cross-country tour, and an extended engagement at the Hollywood Roosevelt's Cinegrill.

Now, after some well deserved years as a private citizen, Jill Corey is back with songs she has written, theatrical involvement (e.g., Nellie at the Lambs Theatre in the recent past) and her own show, Excerpts from a Life.
.